WELCOME TO WINDSOR APPLIANCE
Windsor Appliance and Refrigeration Service is a family owned and operated business that has been servicing the Windsor area for over 40 years.
TIP OF THE MONTH:

Are you using HE detergent in your HE washing Machine?
Not using HE detergent in your Machine can cause numerous issues with you washer and will not clean your clothes as thoroughly and efficiently as HE soaps will.
WHERE DO I FIND THE MODEL NUMBER AND SERIAL NUMBER OF MY APPLIANCE?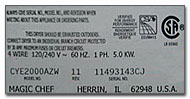 The best way to find where the model number and serial number information tags are at is by checking the owners' manual that came with the product.
If you have it handy and it will let you know exactly where to find the appliance info.
If you do not have the owners' manual the information tags may be found in different locations according to appliance.
The best places to check are inside the doors on washers, dryers and dishwashers. With Fridges and freezers the tag is usually located inside the unit on the sidewall or ceiling. Microwave info is normally inside the door, or under the unit when it is not an OTR.
If you are still having trouble locating this information please feel free to call our office staff and we will gladly help you along, please keep in mind that appliances should almost never have to be moved to find the tags and are intended to be located fairly easily.
PRE-SERVICE CALL CHECKLIST
Often times the cost of the service call can be avoided by checking the obvious things first. In many instances appliances are not connected properly to venting, water or electrical sources.
Here is a list of a few things you might want to check for before calling to book an appointment:
Ensure your appliance is plugged in and the breaker or fuse is not tripped or blown…It does happen, where a plug was accidentally removed or the breaker trips, ensure the breaker is reset by clicking it off and back on.
Ensure dryer's are vented properly…if the dryer is not vented well or is plugged off, it can cause a malfunction.
Where water may be hooked up to an appliance, make certain that all water valves are on leading to the appliance and that the water lines are not leaking or kinked